YD – 2 / YD – 2 Plus renewed version of the world 's RWD (2) and RC drift scenes to E series!
RWD drift machine YD-2 is now renewed as YD-2E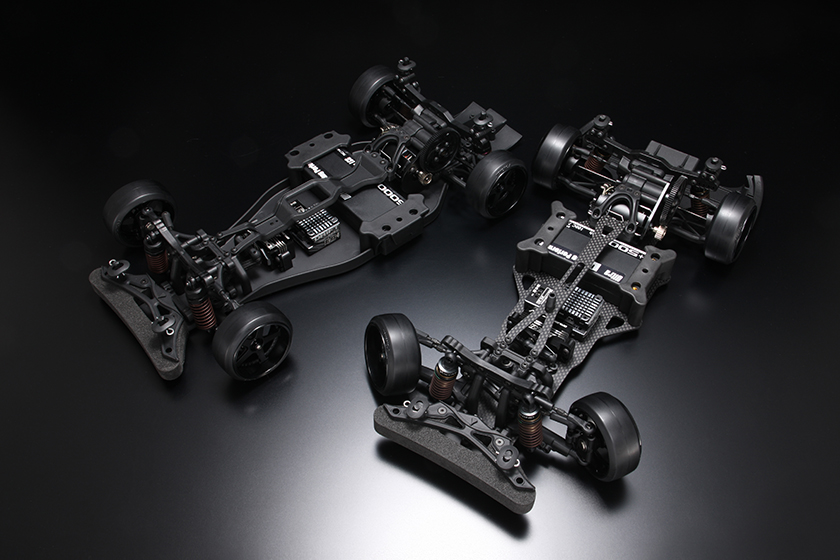 As of the end of January 
DP-YD2E YD-2E resin bathtub specification chassis kit
DP-YD2EG YD-2E (with gyroscope) Chassis kit
front part is equipped with a new type steering block and a new lower suspension arm Achieve wide tread and appropriate Ackerman, achieve further break angle UP.
The rear part is standard equipped with the LS rear lower suspension arm that makes full use of the high rear grip which is the feature of YD – 2. Also, as a result of reviewing rear toe angles and alignment changes of the arms, we acquired a high traction performance that will forcefully accelerate while maintaining a deep angle. E series cars achieved smooth balance between stability and speed while being controllable.
Release in the middle of February 
DP – YD 2 EPLS YD – 2 E Plus graphite double deck chassis kit 

 addition to the specification of YD – 2 E, chassis plate, upper deck, E series top model YD – 2 EX matted carbon graphite Adopted materials. The look is slimmer and stylish due to the difference in material, running is attractive with running and high response from the difference in rigidity.

* YD-2 E series car mounted batteries, for RC cars NiCad, nickel hydrogen, lipo etc. Various sizes are all possible.
 Team Yokomo brings three YD-2 prototypes to the RC Drift World Championship sponsored by D1 – 10 hosted in the Netherlands in June 2016 and enters the RWD class for the first time!
235 people from 27 countries (2 Three YD-2 protos finely ranked first, second, third and podium finally, after the enthusiastic season of seven days participated, the overwhelming performance YD-2 and YD-2 Plus are released at the end of August 2016 while attracting attention as astonishing the world and proving. The first YD-2 that won the world championship in June 2017 and achieved the consecutive title !!? The first YD-2 that became a big hit in the world has also been in operation for 1 year and 5 months from the launch of the YD-2EX Updated versions that reviewed the details as cutting-edge E series cars that draw the flow, two new cars totally appeared !!
It has been passed 1.5years since YD – 2 chassis kit has launch at RWD drifting market and dominating the competitive RC drift market in the world. And now Yokomo has improved its basic configuration and released YD – 2E series as substitute for YD – 2 series .
YD-2E and YD2E (with gyro) has improved its front section to bundled with New Steering and New Lower Suspension Arm in order to have chance to optimize the Ackerman Steering and more wider tread as well. The rear section, LS Rear Lower Suspension Arm is going to be a standard bundled, Toe angle, Alignment of arms has renewed for faster drifting controls as for YD – 2 E Plus, applied Mat Graphite Main chassis, Upper deck which has originally selected for YD-2 EX.
So, the chassis looks more slim and stylish but also deliver the different driving feels due to another type of chassis material. More light weight and higher response on drifting.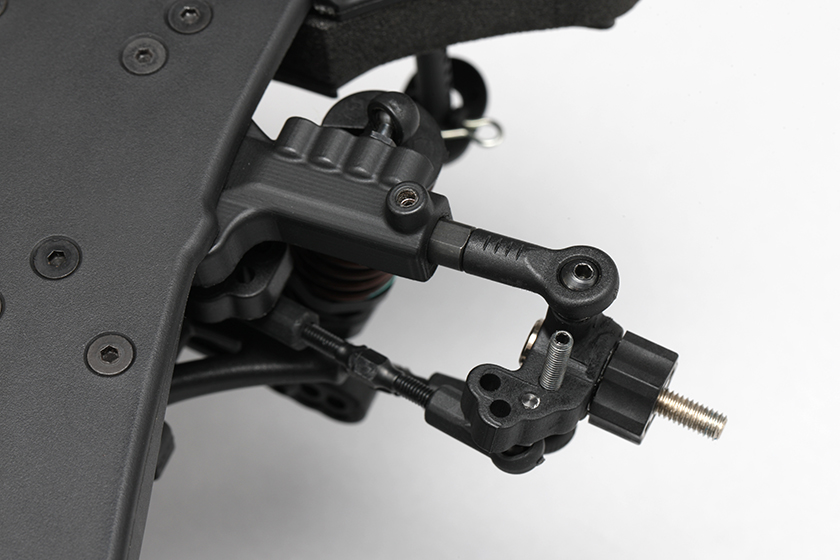 Adopting a new short suspension arm that avoids interference with the wheel rim and easy to secure a break angle.
More steering angle due to new Short Suspension Arm which has redesigned for prevent from interference with wheels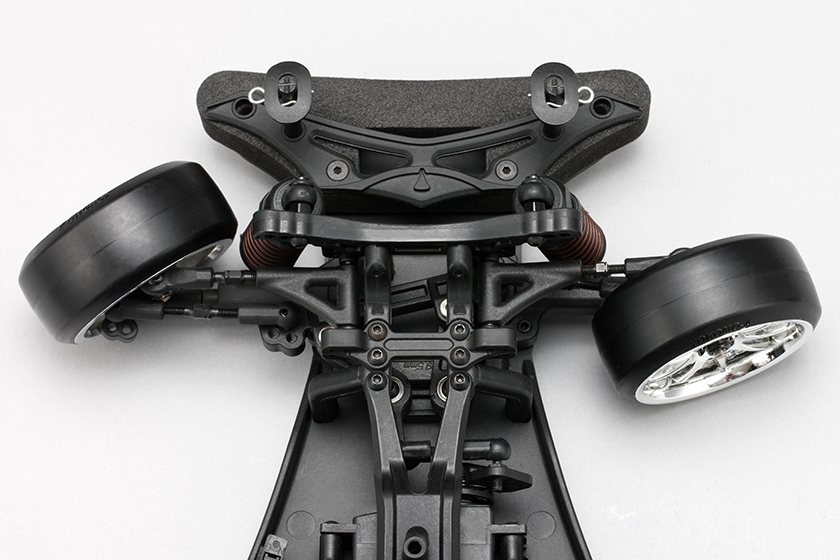 Refine the stopper position by adopting a new type steering block. Secure enough break angle with kit standard.
New Steering Block has applied for refine the stopping location. Good enough steering angle as kit standard.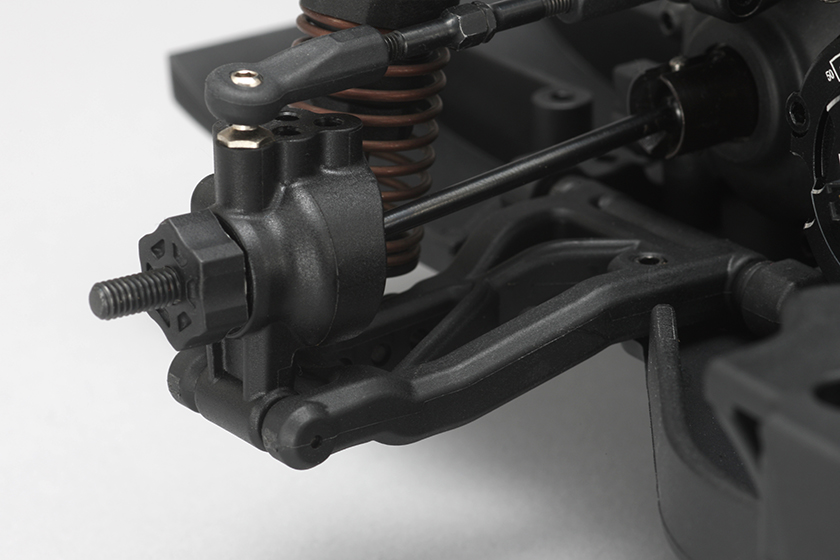 Rear suspension arm is standard equipped with LS suspension arm which can easily secure stroke.
Rear suspension arm is LS Suspension Arm for more stroke.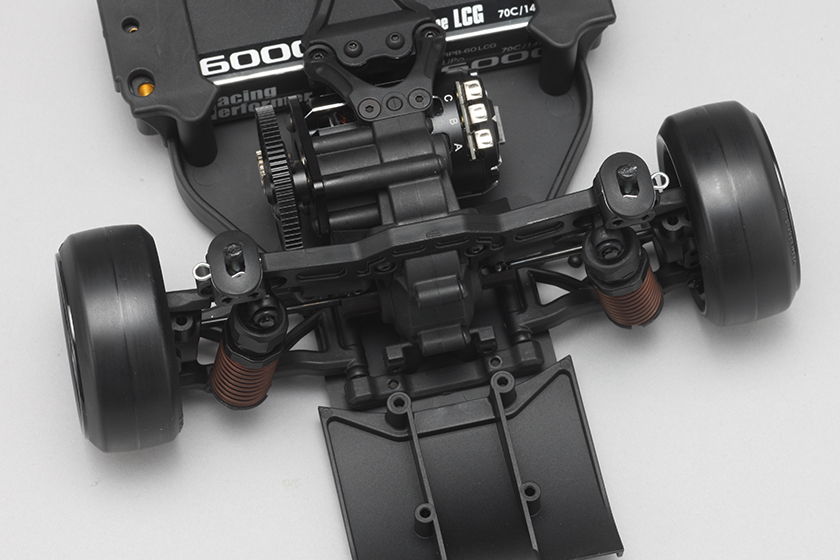 By using the height of the rear grip as a weapon, dare to reduce the rear toe-in, achieving smooth turning performance and acceleration performance.
Reduced Rear Toe-in for more Acceleration and smooth drifting.